No tiger sightings in 2005 in Bokor National Park, Cambodia
Poaching pressure in the park appears to be on the increase, but lack of resources may also have prevented adequate data collection.
Document created 16 May 2006, last updated 16 May 2006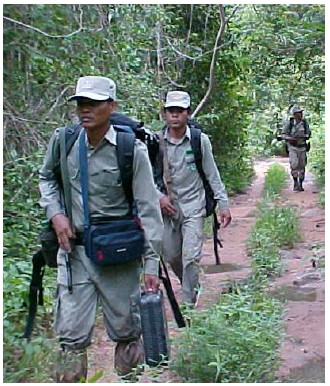 The Preah Monivong National Park, better known as Bokor, was established in 1993. It covers nearly 1600 sq. km (618 sq. miles) of mostly hill and plateau land at the southern part of the Elephant Range, and touches on the Gulf of Thailand on its southern edge. Mt Bokor, at 1079 m (3540 ft), is the park's as well as the Elephant Range's highest point. A climatic regime of tropical monsoon brings an average rainfall of about 4600 mm (181 in.) per year, with a hot dry season through the months of November to May. On the plateau temperatures are 6 to 10 degrees lower than on the coast, with means ranging from a low of 10 C (52 F) in July to highs of 21 C (74 F). Vegetation is mostly moist evergreen forest, with drier deciduous formations in the lower northern part.
Near-vertical cliffs surround all but the park's north-eastern edge, helping to prevent encroachment. Large mammals are present in the park, including elephant and tiger. Other represented species include clouded leopard, Asian black bear, muntjac, banteng, gaur, Sambar, wild boar, pileated gibbon, macaque and more.
Management challenges
The integrity of Bokor National Park, and the survival of its most threatened biodiversity, are constantly undermined by poaching, illegal logging and other uncontrolled encroachment by settlers. Government funding does not provide the necessary level of resources required to meet these challenges. Other local factors such as administrative difficulties and corruption also contribute to the park's management problems.
A conservation partnership
WildAid, and NGO dedicated to combating the illegal wildlife trade, with assistance from several sponsors, has been working in partnership with Bokor Park staff and their government superiors since 2001, with four main objectives:
- to provide better protection to the park's plants and animals,
- to establish a conservation training centre in the park with particular consideration to law enforcement and community outreach,
- to share conservation experience with other conservation management teams in Cambodia, and
- to foster financial sustainability by helping to develop eco-tourism activities.
Poaching on the increase?
Poaching is a constant threat to the park's wildlife. It is carried out both by professionals, and for subsistence. A particularly serious threat occurred in 2004 with the presence of a gang reportedly hunting tigers and bears using landmines baited with prey. In this case Bokor National Park management requested intervention from the provincial Governor in order to avoid a potentially disastrous confrontation.
In order to combat poaching, Bokor rangers patrol the park on a continual basis, and at least two teams are in the field at any given time. In 2005 rangers patrolled the park for a total of 1542 days. Not all park areas were covered, however, for reasons such as the park's large size and difficulty of access (especially during the rainy season). In addition rangers tend to give priority to areas where most violations are reported. But thanks to the helicopter provided by a private donor, aerial patrols were conducted to fill these gaps and cover large areas.
In spite of this patrolling work, several types of violations increased from 2004 to 2005, or even show an increasing trend over the five years since 2001: the figures are listed in the table below.
| | | | | | |
| --- | --- | --- | --- | --- | --- |
| Confiscation/activity | 2001 | 2002 | 2003 | 2004 | 2005 |
| Chainsaws | 43 | 53 | 57 | 110 | 138 |
| Snares | 7297 | 4747 | 13375 | 4755 | 9700 |
| Charcoal kilns | 132 | 46 | 67 | 54 | 54 |
| Poacher camps | 18 | 31 | 25 | 32 | 16 |
| Non-reoffence contracts | 299 | 971 | 483 | 517 | 726 |
No direct tiger sighting in 2005
Like other protected areas in Cambodia, Bokor has never been comprehensively surveyed. In consequence wildlife monitoring is an important part of the rangers' mission, and several of them attended training courses on wildlife identification in 2004 and 2005. In 2005 34 different animal species were identified, thanks to either direct evidence (sighting or noise), or indirect evidence (tracks, faecal matter). Four of these species are classed as endangered by IUCN: tiger, Asian elephant, banteng, elongated tortoise. However, in the case of tiger a single piece of indirect evidence (scat) was found.
The Bokor Conservation Project relies on another method for animal survey and identification: camera traps. These are especially useful in the case of rare or nocturnal species. For instance in 2005 park staff were encouraged by the camera trap recording of two photos of clouded leopard, a species that has been heavily hunted for its skin and other body parts used in oriental medicine.
Tiger, however, was more elusive and none was photographed. This contrasted with the previous year, 2004, where several photos were made.
Attempting to make the best of a difficult situation, it was suggested that this shortage of tiger evidence may not be the result of poaching but of lack of funds. In 2005 the BCP's funding decreased and this resulted in reduced camera traps repair and replacement throughout the park. In this case the problem would be limited to lack of data recording, rather than tiger disappearance. The 2006 results will be followed closely, and renewed capture by camera trap (or direct sightings) would bring reassurance that tiger are still living in Bokor National Park.
Information source:
This document is based on information published in two reports by WildAid and 21st Century Tiger: refer to links provided (upper right part of this page) to these reports online, as well as WildAid's and 21st Century Tiger's websites.
Links to external websites:
[wb1] Bokor Conservation Project - WildAid Bokor National Park interim report January 2006
[wb2] Bokor Conservation Project - WildAid report 2005
[wb3] WildAid - WildAid's mission is to decimate the illegal wildlife trade within our lifetimes
[wb4] 21st Century Tiger - 21st Century Tiger works closely with in-country counterparts in order to develop the capacity within the country to sustain conservation work through the generations.
Comments
No comment available for this document