How many tigers are there in Ranthambore National Park?
A 2005 study brings a credible answer to this question, and some reassurance that the local tiger population has not been ravaged by poaching as in other reserves.
Document created 24 May 2006, last updated 24 May 2006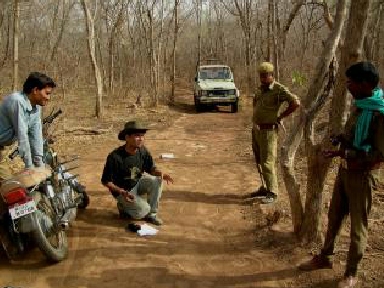 The question of how many tigers live in India's national parks and other wildlife reserves has become especially important since the case of Sariska Wildlife Refuge was made public (often referred to as "the Sariska disaster", cf. document in this website). In 2004 it was revealed that this tiger reserve, one of India's most prominent, part of the Project Tiger programme, had in fact no tiger left. As shown by a subsequent enquiry by the Tiger Task Force, an ad hoc commission created for the purpose of bringing light on this problem and of reviewing conservation in India, all tigers ad been killed by poachers, mostly between 2002 and 2004. Looking into the causes of this disaster, the Tiger Task Force (cf. link provided to report online) revealed dysfunction at various levels in the reserve's administration and management, regarding especially tiger monitoring work in the field, and relations with the people living within the reserve and in surrounding villages. Poor management by various levels of authority antagonised these populations who came to resent the reserve and tiger in particular, and who sometimes provided active assistance to poachers. When tiger numbers began to fall, the reserve's management was unable to get accurate information from the field and failed to identify the problem. Not only was no remedial action taken, but tiger census numbers were knowingly inflated in order to avoid public outrage.

The case of Ranthambore Tiger Reserve
Ranthambore is located in eastern Rajasthan, approximately 360 km south-west of Delhi. Once a game reserve for the Maharajas of Rajasthan, it was among the first nine tiger reserves of India created in 1973 at the onset of Project Tiger. Ranthambore National Park was created as a smaller area within the reserve in 1980.
The reserve has a rich fauna of birds, reptiles and mammals. These latter include leopard, hyena, jackals, sambar, blue bull, wild boar, sloth bear, chinkara and spotted deer.
As for tiger, the official 2004 census reported 45 to 47 individuals, of which 39 to 41 within the national park. However, after the Sariska disaster was made public, there were fears that Ranthambore also had suffered from inflated census and large-scale poaching.

Indeed, in its report, the Tiger Task Force presents the main causes of the Sariska disaster, e.g. dysfunctional management, poaching and conflict with neighbouring populations, as affecting all of India's tiger reserves and other protected areas. While a Sariska-type situation is not thought to have developed in all reserves, conservation there is happening, to quote the Tiger Task Force, "against all odds". Regarding Ranthambore Tiger Reserve, the Tiger Task Force report mentions continuing tensions with villagers around grazing leading to outbursts such as police personnel being assaulted or, in 2002, villagers invading the park with their animals.

Counting the tigers of Ranthambore
The initiative of the census lies with the Government of Rajasthan. In 2005 a committee (the Empowered Committee of Forests and Wildlife Management or SEC) was created to investigate the problems affecting the state's tiger reserves and to provide recommendations. Wishing to make the census in Ranthambore thorough and transparent, the SEC decided on a three-pronged methodology, using three different survey techniques:
- plaster cast and pugmark tracing method (used traditionnally by the Forest Department),
- camera traps (conducted by Wildlife Institute of India,
- digital pugmark technique (conducted by Wildlife Protection Society of India (WPSI)).

The digital pugmark technique was developed recently and this was the first time it was used to estimate a tiger population in a protected area. It is based on the premise that each tiger leaves a distinctive set of pugmarks. The plaster cast and tracing method, which is based on the same premise, has long been criticised by scientists for being subjective and open to error. The digital pugmark technique was developed to eliminate human error thanks to digital capture and computer processing and analysis. For details about this technique, the methology used in the reported study and complete results, please refer to the link provided in this page to the report by the Wildlife Protection Society of India.

Census results
The 2005 tiger census in Ranthambore took place between May 6th and 20th. Results were published by both the SEC and the WPSI (links provided to reports online). It was found by the digital pugmark technique that there were 26 tigers in Ranthambore National Park: 6 males, 15 females and 5 cubs. Two of these tigers may have been transients in the park. For all others pugmark sets were recaptured more than 3 times by the digital pugmark technique. By comparison, the camera trap-based census gave a figure of 21 tigers (range between 15 and 27), and the plaster cast method 31 tigers. The discrepancy with the official 2004 figures (39 to 41 individuals) is thought to be the result of poaching (reports from Indian media online), revealing, like at Sariska Tiger Reserve, that the management system in place at Ranthambore was dysfunctional. A series of recommendations to improve all aspects of protected area management is presented in SEC's report. In the best interest of Ranthambore's tiger population, it is to be hoped that details on their implementation and subsequent results will be made public quickly and regularly.


Links to external websites:
[wb1] SEC report - Full text of report by the Empowered Committee of Forests and Wildlife Management
[wb2] WPSI report - Report from the Wildlife Protection Society of India on 2005 census of tiger in Ranthambore using the digital pugmark technique
[wb3] Tiger Task Force Report - Full text of the report online
[wb4] Wildlife Protection Society of India - From its inception, WPSI's main aim has been to bring a new focus to the daunting task of tackling India's growing wildlife crisis.
[wb5] Project Tiger - Project Tiger Scheme has been under implementation since 1973 as a Centrally Sponsored Scheme of Government of India. The main objective is to ensure a viable population of tiger in India.
Comments
No comment available for this document