On the Hunt for Tiger Poachers and Forest Encroachers in Sumatra. Results for 2007-.2008
In and around Kerinci Seblat National Park, Rangers patrol forests, carry out investigations and engage local communities to protect tiger, other wildlife and their habitats
Document created 27 October 2008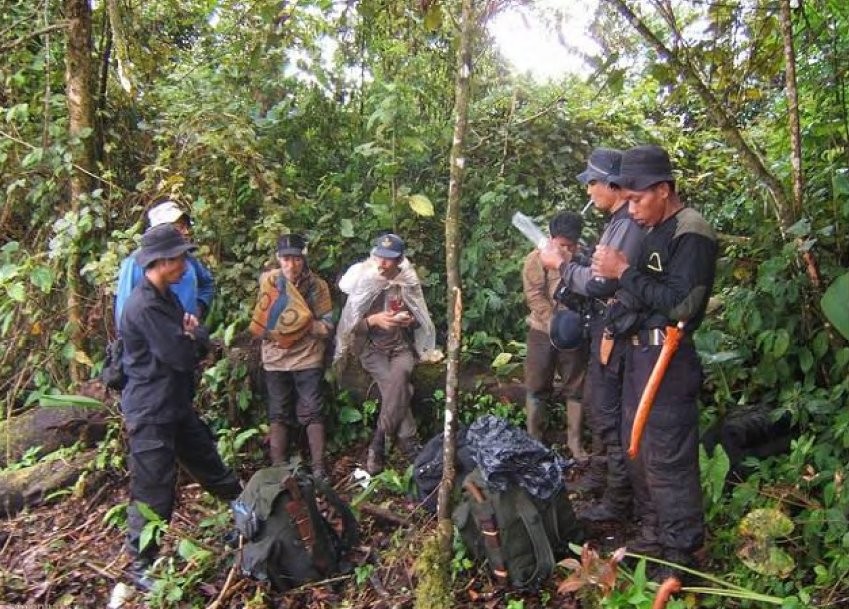 Kerinci Seblat National Park, 13,300km2 in west-central Sumatra, Indonesia, contains an estimated 145 adult tigers, which represents one of the largest tiger populations globally. However, tigers in this park are threatened directly by poaching and indirectly by illegal logging and poaching of their prey.

The work described here is part of a program operated jointly by Kerinci Seblat National Park and Fauna & Flora International since 2000. It aims to support the Indonesian Government's commitment regarding protection of threatened species, particularly the critically endangered Sumatran tiger.

Patrols
In 2007-2008, ranger units called Tiger Protection & Conservation Units (TCPU) conducted 71 patrols in seven districts and three of the four provinces around Kerinci Seblat National Park, with patrol duration varying between three and seven days. Each TCPU was led by a Kerinci Seblat National Park Ranger on secondment, and comprised three rangers drawn from local communities.

A total of 67 encounters of tiger presence signs were made. This was proportionally higher than in the previous 12 month period and could be a sign of tigers being forced into higher than normal densities in national park forest due to illegal encroachment into the buffer zone forests.

Patrols found and seized 9 tiger snares and 665 ungulate (deer) snares. These numbers are comparable to those found the previous year. It appears that active snares are most likely to be found in rarely patrolled areas and rarely on routes where 2 or more patrols per year are conducted.

As in previous years local information from forest-edge farmers and village-level supporters of the programme was critically important in establishing the presernce and location of snares and launching "snare sweeps' before a tiger might be killed.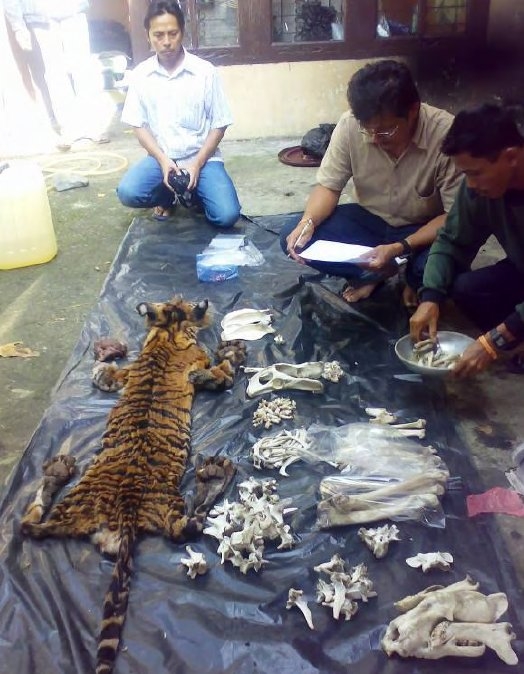 Investigations
Another main area of the program's activity includes the collection of data on the identities and activities of individuals suspected to pose a threat to Sumatran tiger, trafficking routes, methods and market trends are core activities of the program.

In some areas investigators found it disturbingly easy to acquire information about tiger crime and perpetrators. Several poachers were identified and two arrested as a result of these investigations. Poaching in other species and animal parts, such as ivory, was also found.

Market evidence during that period showed a stagnation of the price of tiger parts in all areas of the national park, which could be linked to a decision by the Chinese Government not to legalise a domestic trade in tiger bone products.

Overall, intelligence collection was down from previous years and this is attributed to increased caution by poachers and traffickers in the areas where the intelligence team is active.

Law enforcement
Acting on third party information that many snares were active in the north-west of Mt Kerinci, a TPCU team was able to arrest three hunters from a notorious deer poaching community of northern Kerinci. The three muntjak deer their were carrying probably belonged to a species (Montiacus montanus) throught extinct since the 1920s and "re-discovered" in 2008.

In other operations, TCPU units arrested several men illegally clearing forest inside the national park. Some of these men managed to escape before arrival of police backup.

Human wildlife conflict mitigation
TCPU units rangers devoted a lot of their time to mitigate human-wildlife conflict, as often as possible before predation of livestock had occurred. Most cases involved tiger moving into farmland at forest edge, although some cases related to Malay sunbear or Asiatic golden cat. Interestingly, where good relations have been established with forest-edge communities, TCPU rangers are often asked to intervene to prevent poachers entering the area and damaging the community's "good name".

In 2008 several incidents involving tigers occurred, including the killing of two people from neighbouring villages in three days. TPCU rangers collected substantial information about the tiger responsible for the attacks, a sub-adult male, but were unable to locate it. Apparently it had already left the area, as indicated by the killing three weeks later of another person in similar conditions 60 km to the north.

Other activities
In 2007-2008 TCPU Units rangers were also involved in:

- collection of biological information on the course of patrols: data on forest condition, presence or absence of indicator species.
- community awareness, for tiger conservation bu also since 2004 against the threat of roads being built across the park.
- Wildlife rescue.

For more information please read the full report (link below).
Comments
No comment available for this document